Indian Super League
ISL 2017: Rene Meulensteen says he is disappointed but not concerned about Kerala Blasters' winless start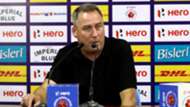 As his side prepares to take on a high-flying FC Goa at the Fatorda stadium on Saturday, Kerala Blasters coach Rene Meulensteen said he has been disappointed by side's winless start to the campaign so far.
"(Am I) concerned? No. Disappointed? Yes. But we have progressed over the last three games and this is another game for us to test where we stand," the Dutchman said at the pre-match press conference on Friday.
"It's different because we haven't played an away game yet. But more than anything, we focus on progress," he added.
On missing CK Vineeth, he reflected, "Sometimes you lose players because of injury, sometimes due to suspensions. That's why you got a squad. I'm happy with the squad and it's still an opportunity for the other players to step into his place and see what they can do."
The former Manchester United man said that he had analysed Saturday's opponents closely and recognized the threat Sergio Lobera's men could pose.
"It's going to be an interesting game for sure. I've had a close look at Goa. They had a really strong start in Chennai. They played an excellent first half. They got a specific style of play. If you let them, they can hurt you. We're well aware of their strengths and we will have to deal with it and we are prepared for it," Meulensteen stated.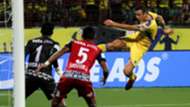 The former Manchester United assistant coach also hinted that former Manchester United and Tottenham forward Dimitar Berbatov could continue to be given the license to roam in midfield due to his indisputable quality on the ball.
"With the kind of qualities that Berbatov brings to the table, you have to think out of the box. You want your best players on the ball a lot. You have to realise that when players play up front are going past the 35 age mark, they lose their kind of explosiveness but they still have plenty of other qualities to play in other positions.
The Kerala coach also gave an update on former Manchester United defender Wes Brown's fitness ahead of the tie saying that the Englishman had travelled with the squad for the match though he did not mention if he would start.
This will be the first away game for the Blasters after having played their first three games at Kochi.