Republic of Ireland
Irish fans presented with award for their behaviour at Euro 2016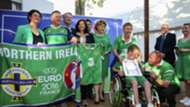 Irish fans have been presented with the Medaille de la Ville de Paris in recognition of their "exemplary behaviour" at Euro 2016.
Supporters of both Northern Ireland and the Republic of Ireland had their exploits acknowledged by Mayor of Paris, Anne Hidalgo, at a special ceremony in Paris on Thursday, ahead of the Euro 2016 semi-final between Germany and France.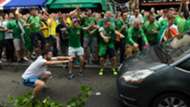 Both teams were eliminated at the round of 16, but their supporters won over the people of France with their good-natured behaviour.
Republic of Ireland supporter Jamie Monaghan and Northern Ireland fan Jim Spratt were simulataneously presented with the award at the ceremony, which was also attended by Irish Ambassador to France, Geraldine Byrne Nason.
Jamie Monaghan's father, Philip, said that it was a "huge honour" for his son to collect the award on behalf of Irish supporters.
"This has been a huge honour bestowed on Jamie, and of course for our family," said Mr Monaghan. 
"Ever since [Football Association of Ireland CEO] John Delaney asked him to represent the supporters at the reception, Jamie has been so excited and tonight has been one of the greatest experiences in his life."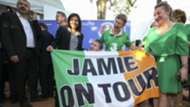 Commenting on the presentation, FAI chief John Delaney said that the supporters "are the greatest ambassadors [Ireland] could have" and also paid tribute to the two Northern Ireland fans who died during the tournament.
"I was delighted to see our fantastic supporters receive this great honour from Mayor Anne Hidalgo," said Delaney. 
"Our supporters are the greatest ambassadors our country could have and just like our new generation of footballing heroes, we're extremely proud of them.
"It was also great to see Jamie Monaghan collect this award on behalf of all of our supporters and I include the late James Nolan, who sadly passed away during EURO 2012.
"It is fitting too that we remember the two Northern Ireland supporters - Darren Rodgers and Robert Rainey - who died during EURO 2016."