Asian Cup Qualification
Indian National Football Team: Stephen Constantine - 'Myanmar are the favourites for AFC Asian Cup Qualifier'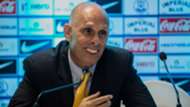 Indian football team coach Stephen Constantine has opined that India's opponents in the opening Group A game in the AFC Asian Cup qualifiers, Myanmar, are the favourites for the game on Tuesday. 
Constantine felt that playing at home and the backing of the crowd would swing the advantage the home team's way. "Myanmar are definitely the favourites. Playing at home is always an advantage for any team. They have been together for some time and the familiarity with each other is so much beneficial when you take the field. They certainly have the advantage," he felt. 
India's haunting 9-1 defeat to Myanmar
Ahead of the crucial game at the Thuwunna stadium in Yangon, Constantine pointed out the home team's high-pressing game as their strength. "They work very hard and love to press. When you combine with the two with the ability they have and add the crowd and atmosphere to it, the combination is just deadly," he added. 
When asked as to whether Myanmar are a bogey team for India, the Englishman dispelled such perceptions and said, "History will show that the same players are not always playing. The situations are always different and both teams would be playing after a long gap. I feel the circumstances are always different. 
"But at the same time, I cannot deny history; in fact, nobody can. But we can't bring it back. Yesterday will always stay yesterday and at the same time, today is an another day."
The 54-year-old went on to assert that India needed to play extremely well in order to gain something from this game, "We hope to have a very good day and hope they have a very bad day. To beat them, we have to play very, very well and hope that they don't play very, very well."
He went on to reveal that several of his players had niggles but nothing major. "Considering the last 18 months, we are in a good place at the moment. Nothing is too serious and the players are ready," he said.