Indian Football: Goa Super Cup youth football tournament to have more than 100 participating teams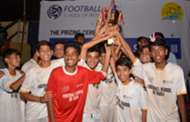 Goa Super Cup(GSC), one of India's premier youth football tournament organised under the aegis of Football School of India (an academy founded by ex-international footballers), is set to see its fourth season in May 2017.
GSC Season 4 will bring together over 100 teams (limited teams in each category) in different age groups for boys & girls. In this category, teams will get the opportunity to compete against the best, from different regions of the country as well as from Gulf countries, which will be a first for a youth tournament in India.
Further, the GSC Season 4 will also introduce an Elite division, running simultaneously with the open category. The Elite division will be an invitational tournament for the eight best professional youth teams in India.
The various age groups for the tournament are as follows (Private academies & clubs, school teams across India and overseas are eligible)
U11 Boys (Born on 01.01.2006 and after)
U13 Boys (Born on 01.01.2004 and after)
U15 Boys (Born on 01.01.2002 and after)
U17 Boys (Born on 01.01.2000 and after)
U17 Women (Born on 01.01.2000 and after)
U17 Elite (Born on 01.01.2000 and after)
The tournament will be held from 10th May to 15th May 2017 across 12 grounds in Salcette, South Goa. 
I-League stats after round nine
Moreover, the participants will have the opportunity to interact and consult with top professional coaches and international players with Football School of India (FSI) scholarships provided to chosen top players. Other features of the tournament include a chance to train with a I-League teams and overseas exposure, premium accommodation with meals, kits and on ground medical assistance with ambulance. 
A coaches conclave (top level Indian coaches sharing modern training methodology) will also be held. 
Minerva Academy win Premier Cup
Vaishali Sanas, Head of GSC, said: "We are excited to present the season 4 of Goa Super Cup 2017! GSC aims to give a holistic sporting experience - from budding footballers entering the professional football world to young colts who are ready to take on the Indian football landscape. Coaches sharing and learning, taking back a wealth of experience. There's something for everyone at GSC."
To register:
Email: goasupercup@gmail.com
Facebook: FootballSchoolOfIndiafsi
Phone:  +919022291435 /  +918976044465