Abdelhak Nouri
'I'll whisper it in his ear' - Nouri's brother thanks fans for tributes to Ajax midfielder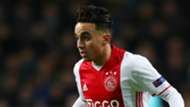 The brother of Abdelhak Nouri has thanked fans for their display of support for the Ajax midfielder outside the family home.
Nouri tragedy devastates all of football, not just Ajax
The 20-year-old was transferred to a hospital in Amsterdam after being diagnosed with severe and permanent brain damage as a result of a cardiac arrhythmia in a friendly in Austria. 
A huge number of fans gathered on the street to welcome the family upon their return and pay their respects to Nouri. 
#StayStrongAppie pic.twitter.com/L5odWbmKCh

— AFC Ajax (@AFCAjax) July 14, 2017
The street in Geuzenveld, Amsterdam was swamped as they waved banners and chanted the name of the youngster affectionately known as 'Appie', while the Ajax squad turned up to meet his family.
And Nouri's brother, Abderrahim, vowed to whisper the support to his brother when he visits him in hospital.
"We want to thank everyone, everyone, absolutely everyone who was there or not; Muslim or not Muslim, Ajax or Feyenoord, dark or white, old and young for the support and especially the wonderful tribute yesterday," Abderrahim wrote in a letter to AT5.
"It's indescribable what this has done and is doing to us.
"Through his good manners, good behavior and good character, so many people have come together who would never to come together these days.
"These are very positive signs for us about the place and rank Abdelhak will receive in the afterlife if the worst scenario happens.
"When I visit my brother, I will whisper it all in his ear. Thank you and continue to trust in God and keep praying and accept what God has for done and has in store for him. 
"On behalf of the Nouri familly, thank you."
De opkomst van Feyenoord in Putten...#StayStrongAppie pic.twitter.com/S24U8UK6t0

— Feyenoord Rotterdam (@Feyenoord) July 15, 2017
The tributes to Nouri continued on Saturday, with Feyenoord's players wearing t-shirts with the hashtag "Stay Strong Appie" written on them as they took to the field for a friendly against Putten.