African All Stars
Iwobi aims to prove a point at Arsenal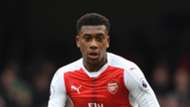 Alex Iwobi is determined to prove himself in Arsenal to earn a regular playing time when the 2017-18 season starts in August.
The Super Eagles forward admitted that he did not play as much as he wanted for Arsene Wenger's men last season.
The 21-year-old disclosed that he needs to be more lethal in front of goal as he targets an improved campaign with the Gunners.
"I have a point to prove. I didn't play as much as I'd like to last year. I want to start the season with a bang. I've been doing a bit of running and ball work to prepare," Iwobi told The Mirror.
"I need to be a bit more hungry this year, add more goals and assists. At the start of last season I played a lot. I want to do that all year. Consistency is the key with me.
"Goals win games. I need to add that. Arsene Wenger spoke to me towards the end of last season. Show me you're able to do that and I'll give you a chance."
Arsenal kick off their Premier League campaign against Leicester City at the Emirates Stadium on August 11.