Chelsea
'I want to be the best in the world' - Chelsea teenager Gilmour's big ambition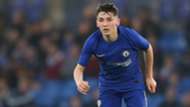 Chelsea youngster Billy Gilmour wants to be the best player in the world.
The 17-year-old joined the Blues in 2017 from Rangers, and has already enjoyed success, playing for the club at both Under-18 and Under-23 level.
He scored eight goals in 24 appearances for the Under-18 side, and has scored once and provided two assists at the higher age group.
The teenager was voted the best player at the Toulon Tournament over the summer, as Scotland reached the semi-finals, and he has been capped to Under-21 level.
And he is already setting his sights high as he looks to reach his boundless potential.
"That's always been my ambition, to be the best player," he told the Scottish Daily Mail .
"In the world, yeah. I think every kid's dream should be that.
"If someone is better than me, I want to be better than them. I've always had a winning mentality and I hate losing, so when I see someone doing better, I need to match them."
While it has often been a struggle for young players to break into the starting XI at Stamford Bridge, the SFA's performance director, Malky Mackay, believes Gilmour made the right choice in heading to London.
"He's got a lot of potential," he said. "He's been on our radar since he was 11 and Craig Mulholland and the academy coaches at Rangers have given him a fabulous grounding.
"He's now taken another step - which is a very brave step to take, going down to Chelsea - and he's hit the ground running.
"He absolutely has got fabulous technical ability. It's his mentality. Can they have talent? Fine. Plenty of kids have that. But to play at the highest level, you need temperament.
"And we're certainly seeing that at the moment. It's potential and it's a progression, but it's a progression of potentially a very, very good player."