Chennai City
I-League: Akbar Nawas takes over at Chennai City FC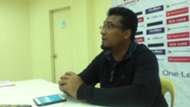 Chennai City FC have revamped their management following a disastrous 2017-18 season where they finished 8th in the I-League and wereknocked out in the qualifiers for the Super Cup.

Singapore national Akbar Nawas has been formally appointed as the head coach of the southern side. The former Global Cebu coach was already seen in the technical area during Chennai City's 4-1 defeat at the hands of Robbie Keane's ATK in the Super Cup qualifying playoff. The appointment now has been made official.

Nawas has already had a taste of football on Indian soil when his Tampines Rovers were beaten 1-0 by Bengaluru FC in the 2016 AFC Cup. The 42-year-old also knows how to speak Tamil, therefore bypassing any communication barrier with the local players in the team.

V Soundararajan was relieved of his duties after the end of the I-League season. The AFC Pro-license holder will however continue in his office role as that of the Southern Railway's football team coach.

Joining the former Singapore U-21 national team coach as his assistant will be Spaniard Jordi Gris Vila, who will also double up as Director of Youth Football at the Rohit Ramesh-owned club.

A product of the FC Barcelona's La Masia in his playing days, Vila was involved with the Blaugranas first as an opposition scout from 2007-2010 for the 'B' team. He was also assigned talent scouting duties for the junior teams in the Canary Islands region till 2011.

Vila was instrumental in the capture of striker Sandro Ramirez from UD Las Palmas' youth side to Barcelona. Ramirez now plies his trade at Premier League outfit Everton FC. He also brought in Argentina and Internazionale striker Mauro Icardi into the Barcelona system in 2008 before he left for Italy in 2011.