I-League
I-League 2017-18: Bino George wants three points as he targets Super Cup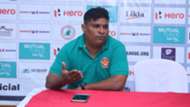 When Churchill Brothers host Gokulam Kerala on February 24, they will be fighting to avoid relegation, whereas their opponents will be giving their all to secure a direct ticket into the final stage of the upcoming Super Cup by finishing in the top six.
Bino George, head coach of Gokulam Kerala, did not mince words while sharing his target loud and clear.
"My target is to play Super Cup. I have heard that the Super Cup might be held in Kochi, so we would like to participate. We were late in signing foreigners in the first window. We did not even know until pretty late whether we will be playing in I-League or not. So we built our team with young talented Kerala boys who will give their all to fulfill our target (to play Super Cup)," stated George.
Gokulam had signed Kamo Bayi, former Mohun Bagan player, and a host of other foreigners who did not live upto the expectations. George rued that if he had got these current crop of players from the beginning, things could have been different. 
"Previously, we had our foreign players injured and luckily we found good replacements in Henry (Kisseka), Mudde Musa and Mahmood Al-Ajmi. Most of the players are new, who have no experience in playing professional leagues. They have now adapted to the system and they will give their all in the remaining fixtures to get the full three points.''
"We badly need a team from Kerala. Now people have started following us. For the last six years, there has been no team from Kerala in the I-League. Kerala have a lot of good talented boys and this is a platform for them," he said.
The 41-year old coach heaped praise on his opponents as he believes that beating Churchill at home remains a daunting task.
"Churchill has improved a lot after they brought in new foreigners. Last match, they could not give their all as the ground in Coimbatore was bad. Churchill is a good side and I respect them but we will also be working hard to get three points. They are under relegation scare so they will be under pressure. But we have no pressure or anything like that, so we can play good fearless football," explained George.
On the other, Alfred Fernandes, head coach of Churchill Brothers, blamed his side for the situation that they are in and was in no mood to settle for nothing less than three points from tomorrow's (Saturday) encounter.
"We have to defend the reputation of our club. We are the only people to blame for the situation we are in. All three matches are a final for us as we have to get maximum points to remain afloat in the I-League. The boys are motivated and they are ready to prove that we are still one of the best. We have had lapse in concentration but tomorrow we will regroup and try to achieve success," said Fernandes.
The Goan coach also pointed out that injuries have played a huge role in dementing the progress of his side. He also informed that Siyo Zuniappo (Congo) and Francis Oneyama (Nigeria) have joined the team to replace Koffi Mechac and Kalu Ogba respectively.
"Richard (Costa) was gelling very well with the team. He lent a certain compactness to the team. His omission was a big blow for us. Again due to a lapse in concentration, we conceded a late goal against (Indian) Arrows. The morale can go down but they are professionals and they are ready to perform when it matters. Richard has been training with the team for a couple of days and hopefully he can join the team tomorrow," said Fernandes.
The former youth development coach of Churchill Brothers praised Gokulam as they have been in red-hot form, beating the top teams in I-League.
"Gokulam is playing very good football as they have beaten all the top teams. It is difficult to face a team who is in form, but we have quality in our team which I am sure will see us through," he signed off.