Real Kashmir v Mohun Bagan
I-League 2018-19: Sankar Lal Chakraborty heaps praise on 'excellent' Mohun Bagan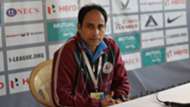 Mohun Bagan churned out a hard-fought 1-0 victory over Real Kashmir riding on a Dipanda Dicka strike in the 70th minute to register their second win of the season at the TRC Turf Ground in Srinagar. 
Head coach Sankar Lal Chakraborty was happy with the fighting display by his team. 
"We did excellent in testing conditions and we have achieved our target so I am happy. We knew that it would be a difficult first half. But although they had more ball possession they did not create a single chance. We recognised some gaps and in the second half, we tried to utilise those. Dicka and Henry repeatedly came down to get hold of the loose balls and we created two goal-scoring chances. They continued to play long balls but they were not able to open our defence," stated Chakraborty.
Chances were minimum and Dipanda made the most of what fell for him in the second-half. But credit must be given to Mohun Bagan's defence as they soaked in the early pressure from Kashmir giving away very little to opposition striker Gnohere Krizo.
"The scoreline is not important but what matters is that we got the three points. Now we have to improve in every department. It is great to have two clean-sheets in successive games," said the Bagan gaffer.
Real Kashmir head coach David Robertson put up a stern defence of Krizo's performance. 
"They (Mohun Bagan) changed the centre-back to mark him. So what does that tell you? He is the danger man. We have got another striker coming in. We must remember that we are in a new league and we will take time to adjust. We were up against a very good and experienced team. If you want to decimate the team and write that he is not good you are free to do so. I think he did well. Maybe he didn't get enough support but we must remember whom we are playing against," said the coach.
Although his team have lost two back-to-back games the Scottish tactician is not too concerned with his team's performance as they have been losing games by narrow margins.
"I would have been concerned if we were losing these games 4-0 and 5-0. We are competing against Mohun Bagan. We are not taking the opportunities. But the important thing is that we are creating chances. We moved the ball around well and we caused problems to their defence. But I am confident that the goals would come. 
"I think the overall performance was very good. I told before the game that we cannot allow them to pour crosses and they managed to put two crosses and scored with one. And you can't leave a number 9 unmarked. He didn't do much in the game but he scored. But now we need to convert these performances into points," concluded Robertson.