I-League
I-League 2017: Sanjoy Sen: Indian football alive for Mohun Bagan and East Bengal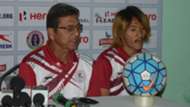 Siliguri's Kanchenjunga Stadium will the marquee clash of East Bengal and Mohun Bagan - the first Kolkata Derby of I-League 2017. Mohun Bagan head coach Sanjoy Sen definitely did not have his nerves jangling ahead of the 'big occasion'.
The Mariners have prepared for the clash just like they train for any league match said Sen. ''We got the fixture list at the beginning of the season and we knew we had to play East Bengal on 12th (February). We are preparing just like we do for other games."
Sen had to distance himself from the technical area in the last derby played at Siliguri itself on 2nd April 2016 as he was serving his four-game ban following his infamous 'AIFF is sold out' comment.

However, this time, the 56-year-old will be allowed on the sidelines. On being asked if that would be a factor in upturns of fortunes, Sen replied cheekily, "Only time will tell if there is a difference. There is no point in dwelling in the past.''
The last time the two Kolkata outfits had met, Mohun Bagan fell prey 2-1 to the Reds and Golds. That will however, be no basis for vengeance clarified Sen. ''There is nothing called revenge. To win a championship, you need to win every match but it is not realistically possible. But our target will be to achieve three points."
Kolkata Derby Special - Sony Norde needs to step up against East Bengal to be counted among Mohun Bagan greats
''There is a very negligible difference. Winning the I-League does not depend on winning or losing this match. If we win the game, we won't have won the I-League, if we draw or lose, we do not back down from the title race,'' explained the former United SC coach when asked about what this particular derby stood in his coaching career.
Sen believes that the fame of football in the country has increased massively because of the two Kolkata clubs. ''Indian football is still alive, especially in Bengal because of Mohun Bagan and East Bengal. Earlier one used to say that only Bengalis can understand this 'derby flavour"

"Now with foreign players and coaches coming in, even they have understood it. It is a good advertisement for Indian football. It can only be bettered now by attracting more audiences and that is how our football will grow,'' he asserted.
He mentioned the addition of foreign players adds that little extra zing to a side. ''It is not that one foreigner will score and another will defend and be a hero. It is a team game. But yes, there are foreigners who can change the complexion of the game on their own. Individual difference can make a difference,'' he concluded.