I-League
I-League 2017: Alfred Fernandes - 'We are the only team which has been playing consistently'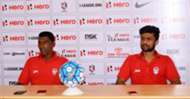 Speaking to the press ahead of Aizawl FC's home game against Churchill Brothers on Friday, manager Khalid Jamil sounded keen to put behind their loss to Mohun Bagan last week. 
Aizawl FC lost to Kolkata heavyweights Mohun Bagan 3-2 in their previous fixture. However, the manager aims to move on from the defeat and head into their upcoming home game with a positive outlook. ''We have to play against Churchill (Brothers) with a positive mindset and forget the earlier match. We have to work hard to defeat them (Churchill Brothers),'' he commented.
The former Mumbai FC boss revealed that Aizawl have a fully fit squad but Lalruatthara would be absent. ''Everyone is available except Lalruatthara since he is sidelined after receiving his fourth yellow card,'' disclosed Khalid Jamil.
Speaking about their opponents, the Kuwait-born boss applauded their form. ''Churchill Brothers are improving match by match. They have improved as a unit. We are not going to take them lightly,'' he mentioned.
I-League 2017: Hitesh Sharma - Profiling Mumbai FC's promising creative medio
Visiting side's manager Alfred Fernandes expressed his concerns with Aizawl's climate. The Goa boss stated that Mizoram's climatic conditions are tough to cope up with.''We have to get used to the different climate. We travel a lot in the league and it's a part of the game. However, the higher altitude creates a bit of breathing problem. But, we have no complaints,'' he discussed.
Furthermore, the 50-year-old revealed that he was looking for defensive reinforcements. ''We were in some talks of some defenders but it couldn't go through. Hopefully by next match we should be signing a quality defender,'' he revealed.
The Red Machines will be without the services of Rowilson Rodrgues who is getting married in the next few days. Also, defender Fulganco Cardozo is doubtful for the encounter with Aizawl as he is still recovering from his injury suffered at Ludhiana. ''Rowilson (Rodrigues) is getting married. He had made arrangements in advance. So, I had to allow him to miss the tie. He had already left Shillong."
I-League 2017: Chennai City appoint V Soundararajan as head coach
"Fulganco Cardozo suffered an injury in Punjab. The physiotherapists are monitoring him. I can take a call on him only tomorrow,'' said Fernandes.
Finally, the Goa coach expressed his frustration with the results so far. ''We are the only team which has been playing consistently despite the results," he stated.