I-League
I-League 2017-18: Khogen Singh - We were playing 14 versus 11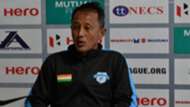 Minerva Punjab went down 1-2 against Chennai City FC on Friday at the Jawaharlal Nehru Stadium, Coimbatore. Michael Soosairaj and Aleksandar Rakic scored for Chennai and Chencho Gyeltshen netted the only goal for the visitors.
Minerva's defeat against Chennai meant that the title race was blown wide open, handing Kolkata giants East Bengal and NEROCA a look in. 
Coach Khogen Singh was furious after the match as he vehemently protested against the officials. He claimed that the second goal which was scored by Rakic was offside.
He said,"We were playing 14 versus 11! How can we win the match with that! The second goal was a clear offside. The linesman wasn't in the right position which is why he didn't see the line. The referee's decisions changed everything. The referees have done mistakes in previous matches too but I have been patient with those.
"This was a crucial match, however. Because of the referee's decision my captain (Kassim Aidara) was furious. Otherwise, our players never feel so. This was the first time our players did so. We always have controlled the players but this was a crucial match because it was title-deciding. Whatever has happened has happened, but I am very upset."
Singh continued, "Even in Goa it (the mistakes)  happened and we lost (against Churchill). I excused them (the referees) because they're also humans who make mistakes. But this was a title-deciding match and they need to be sincere. Because of their decisions, my players also fought. We won't file a complaint but everyone who has watched it on the television and in the crowd, know about what happened.
"This was a disaster. If we would have won, the lead would have been sustained. We still have hope but we have to see our opponents' matches - East Bengal's matches."
Other than complaining, Khogen Singh did not forget to praise opponent captain Michael Soosairaj. He went on to say that the Chennai skipper was the best Indian player in the league.
"Soosairaj is a very good player and that's why we man marked him. We gave him what we term ''shadow marking''. Among the Indian players in the league, Soosairaj is the best according to me," said Singh.
Chennai coach V Soundararajan was extremely happy with his side's performance. He said, "My team has played excellent football today. We maintained the ball possession, all the players were working hard. I am very happy to beat a team like Minerva. Initially, we concentrated on defending and second half we went for the attack."