Liverpool
"I hope so" - Oxlade-Chamberlain targeting Liverpool return this season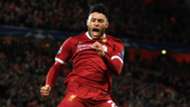 Liverpool's Alex Oxlade-Chamberlain says he's hoping to make a return to action before the end of this season as he continues to recover from a serious knee injury.
Oxlade-Chamberlain, 25, saw his impressive start to his Anfield career brought to a halt when he sustained an injury that damaged his crucial and medial ligaments as well as the tendons to his hamstring in Liverpool's Champions League semi-final with Roma in April. He had a successful operation eight days later.
The club only revealed the full extent of the injury in July and made clear that any game time for the midfielder this season would be seen as a bonus.
But speaking in an official club video named Ox's emotional road to recovery, Oxlade-Chamberlain revealed that he is hoping to make "a few" appearances before the end of the campaign.
When asked if he'd be able to return to action this term, the England star said: "I hope so. The next target for me is to build up more in the gym, back towards being able to run outside again. I can't wait. 
"I'll probably have to do two months of running which is not really my favourite thing either! And then once the ball comes out it becomes easier. I've already started passing the ball and stuff like that inside, which feels really good. 
"I'd love to be able to make an appearance at least before the end of the season, depending on what we're doing and if I'm really needed. I'm sure I won't be fully at the races or fully fit and up to scratch. 
"It would be nice to make a few appearances before the end of the season, probably more mentally to prove that I can do it and have a good pre-season and then start fresh next season."
Oxlade-Chamberlain also reflected on the way he picked up the injury and says he instantly knew that he could be out of action for a while.
"I've had loads of kicks over the years and I'm not really too fussed about them," he added.
"I get kicked and I don't like to roll around or anything, I like to get back up pretty quickly even if it hurt. 
"But this one, straight away I thought 'I'm in a bit of trouble here, something bad has happened'. 
"Dejan Lovren's reaction when he was just stood over me looking down at me doing this (covering his face with his hands), I was like 'you're not helping me mate!'"
The former Arsenal midfielder went on to explain how he tried to clarify the injury with Liverpool's medical staff just moments after being taken off.
"I was sitting in the recovery room in the tunnel and I said to them 'is it ACL, is it bad?' just so that I could get my head round it. 
"They said 'we're worried about that but we don't know, we're going to have to check it' and as it turned out it was." 
In Oxlade-Chamberlain's absence, Jurgen Klopp's side currently sit in second place in the Premier League after twelve matches and are still yet to be beaten in the league.
Qualification for the knockout stages of the Champions League is still in their hands, but they were knocked out of the Carabao Cup by Chelsea in September.
Their next league clash will see them take on Watford at Vicarage Road.