Cristiano Ronaldo
'How do you sell Ronaldo for €100m?' - Villas-Boas lauds Juventus as he mulls over his own move to Italy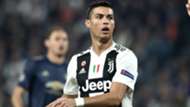 Andre Villas-Boas has questioned the logic behind Real Madrid's decision to sell Cristiano Ronaldo to Real Madrid while admitting to considering his own switch to Serie A.
The Portuguese is currently out of work having turned his back on coaching to focus on motorsport.
He has, however, admitted that he will be returning to the dugout at some stage, with the former Porto, Chelsea, Tottenham and Zenit boss having already hinted at a move to Germany.
Villas-Boas has now conceded that Italy could be another potential landing spot, telling Corriere dello Sport: "I'm not in a hurry and will wait to see what's going to happen during the season. 
"For me, choosing well means also understanding why a club wants me. The latter is a key aspect: teams change coaches with great speed and often do not look at the technical philosophy of a technician, but his percentage of career victories. So they end up being disappointed when quality is lacking in the game and the public loses interest."
He added: "Italy obviously interests me. From a tactical point of view it is one of the most difficult championships. In the future who knows?"
While Villas-Boas could take on a Serie A challenge at some point, a fellow countryman is already there.
Five-time Ballon d'Or winner Ronaldo completed a stunning €100 million (£88m/$113m) transfer to Turin over the summer, with Real prepared to part with their all-time leading goalscorer.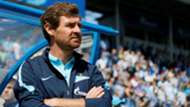 Given the struggles that have since been endured at the Santiago Bernabeu, Villas-Boas admits to having been left baffled by the Blancos' willingness to part with a modern day legend.
He said: "It totally surprised me. How do you sell Cristiano for 100 million? It does not make sense from any point of view: neither sport nor economic. 
"Congratulations to Juventus for the blow they were able to make."
Villas-Boas believes that Ronaldo should be handed another Ballon d'Or in 2018 and feels that he makes Juve serious contenders to land a much-coveted Champions League crown.
"Absolutely, yes," said a man who last filled a coaching role at Chinese side Shanghai SIPG.
"I do not say that they are the number one favorites, but now they have a champion that will make the difference."
Ronaldo, after a slow start to his spell at Juve, has netted nine goals in 15 appearances and is looking to conquer continental football for the fourth successive season.