Cambodia v Malaysia
Honda takes Cambodia training, reveal plans for Malaysia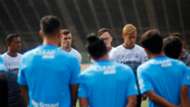 The Japanese legend who was recently named as the new General Manager of the Cambodian national team has already begun work in his new non-playing capacity in this international calendar window.
Whilst the role that Keisuke Honda is appointed is such, his role is much more than that and images from his first training session with the team showed that he's also very much the man in charge on the pitch.
Cambodia will play host to Malaysia on 10 September in Phnom Penh in an international friendly that will also serve as a precursor to the actual competitive battle between the two side in the same location in November when they face each other in the 2018 AFF Suzuki Cup.
Honda who still currently contracted to Australian club side Melbourne Victory but will have the Cambodian team as his shared focus as he prepares the team for the aforementioned biggest regional competition in Southeast Asia.
In a video posted on his official Facebook, also showed some of the plans they want to work on ahead of the friendly against Tan Cheng Hoe's team on Monday. Among the plans include playing a possession based football focusing on speed of passing from back to front.