Primera División
Here's your chance to intern with LaLiga APAC!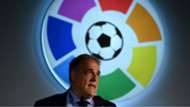 Are you looking for an exciting opportunity to work in the field of football? Here's you chance..
LaLiga, the top professional division of the Spanish football league system, is looking for interns to be based from their regional office in Singapore. 
The internship will be for six months but comes with a multitude of perks. 
In the 6 months that the intern will be employed at LaLiga, he/she will be introduced to the world of football and embark on key projects. These include aiding in the organization of public viewings of El Clasico in the region, and play a key role in school initiatives.
The first-ever intern for LaLiga APAC will also be gifted with 2 match tickets for him/her to experience a LaLiga match first hand in Spain.
The intern will be selected after a two-stage process, the first of which will see LaLiga sieve through resumes and CVs between 9th to 20th October. A "First Eleven" made up of the best eleven candidates will be selected to embark on the second stage from 23rd to 30th October. 
The candidates will have to come up with creative ideas on how to increase LaLiga's brand exposure during this stage and will also have to embark on a FIFA 18 tournament to get assessed on their attitudes. 
The chosen intern will be announced on the 13th of November. 
Ivan Codina, Managing Director (SEA, Aus, Japan, S.Korea) said: "The search for our very first intern in Asia is indicative of our growing efforts here, and allows us to connect with our audiences in many different ways. With the help of the intern, we will be able to better engage with millennials and youths, and aid in the development of football in schools, as part of our focus on the grassroots."
The internship is a full-time position for a duration of 6 months, but can be customized to fit the needs of the intern. The internship period should start from December 2017 till May 2018.
Interested candidates should send their resumes and CVs to rtan@ext.laliga.es by 20th October 2017.
So, what are you waiting for?