Friendlies Women
Harambee Starlets out as Cas throws out Kenya's bid to have Awcon kick-off date suspended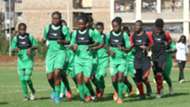 Kenya's bid to have the kick-off date of the 2018 Africa Women Cup of Nations finals suspended has been thrown out by the Fifa's Court of Arbitration for Sports.
The Football Kenya Federation had moved the court to compel Caf to incorporate Kenya into games after the continental body reversed their earlier decision to reinstate the East African nation to the continental championship. This is after Equatorial Guinea was found to have fielded an ineligible player during the qualifiers.
But Caf would later in October make a U-turn by reinstating Equatorial Guinea to the competition, consequently throwing Kenya out of the bi-annual games that kicked off on Friday in Ghana. 
Kenya wanted the kick off date suspended until the country's appeal is heard and determined, but the Lausanne-based Court ruled otherwise, even though the Kenyan FA has vowed to push for justice.
"This morning (Friday 16th November 2018) we have received the decision for urgent provisional measures that FKF had applied for at the Court of Arbitration for Sport…to suspend the entire tournament until a rightful decision has been made.
"The final decision by the President of the Appeals Division was to unfortunately reject our application for provisional measures, and we fully understand and respect the decision of the Cas.
"This, however, does not end the case. Our appeal against Caf is still open, and we will continue to fight for justice to be done in some way, to repair the harm that has been caused to our Starlets, and the people of our nation."
Kenya termed the Caf's move as 'blatant regulatory breach' with negative effects on the national team. "We will continue to fight at CAS in order to demonstrate that we as a federation and we as a people will not sit back and simply accept routine and blatant regulatory breaches that impact the progression of our teams, national or otherwise.
"For the moment, we wish the participants of Awcon all the best, and we are sure that Ghana will continue to host a wonderful event without us, and we will prepare strongly to ensure that Kenya is represented at the next Awcon," read FKF's statement.