Premier League
Guardiola insists Aguero 'knows what I want' but striker set for more time on the bench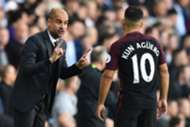 Pep Guardiola insists Sergio Aguero knows he is wanted by Manchester City, but the Catalan says he is unsure what the striker will decide if he spends more time on the bench.
WATCH: Traore scores sweet solo goal
Aguero suggested last weekend that he does not know if he will still have a place in Guardiola's plans come the end of the season, despite his desire to stay at City.
City quickly made it known that Aguero is not for sale, while Guardiola has often said the Argentine will only leave when he wants to.
Asked if he could guarantee Aguero will be at City next season, Guardiola pointed out: "Five minutes after those statements, Man City released a note saying the opinion of the club and manager."
The City boss was then asked why Aguero, who had a meeting with his agent and the Catalan around three weeks ago, would hint on three separate occasions that he could be sold, given the club's public position is so resolute.
"Sergio knows the intention of his manager and the club," Guardiola said. "I don't want to sell him, I want him to stay here for a long time until he decides."
PSG are still my team, says Pochettino
Guardiola also insisted the only reason Aguero has not featured in City's last two games is because of the form of Raheem Sterling, Leroy Sane and Gabriel Jesus, who have forged a fearsome forward line in recent weeks.
The manager's comments, however, indicate that Aguero will spend more time on the bench until one of the youngsters has a dip in form.
"The reason he's not played the last two games is because Leroy, Gabriel and Raheem have played amazing," Guardiola added.
"That's the only reason why. If I can change the model and play all four but I am a guy who likes to play midfield players to have more control. If what I feel now is that if Leroy, Gabriel or Raheem don't play then he will be in for them.
"He remains a top player and an important one for us to achieve our goals. I don't have doubts about that."
Guardiola was then asked if he fears Aguero could decide to leave if he becomes unhappy with watching from the sidelines.
Players prefer Ancelotti to Mourinho - Ivanovic
"I don't know," he responded. "I was so clear with Sergio. With seven games banned, we missed him a lot. Every time he played when he was fit - he did a good performance and sometimes not. I know his level and I know what he's done for this club.
"The others played good and I decide to play with them.
"At the end of the season I don't know. I know how difficult it is to find top goalscorers. The guy in the centre of the goal is one of them. I would like him to stay but I don't know what is going to happen. Even in my career I didn't know what would happen at the end of the season.
"I was clear every time we spoke with Sergio from the beginning. I know his strengths. I know he's trying, I know how much he fought against Tottenham and how many chances he had. But at Palace I saw three guys in front with a high intensity and said 'wow, I like what they do'. In the last game it gave them continuity. My advice to the guys is keep going - show me again how good you are."