Ahmed Fathy
GOAL 25 | Ahmed Fathy: Pleased to be part of the list, these are the best players of 2017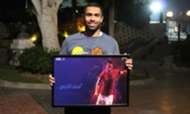 Al Ahly and Egypt right back Ahmed Fathy expressed his happiness in being part of the GOAL 25 list for the best 25 Arab players of 2017.
He was included in the list after great performances for club and country in 2017.
GOAL interviewed Ahmed Fathy:
How do you see yourself in the GOAL 25 list after being picked?
Of course, this is a big honour for me and it will increase the pressure on me to produce better performances. I would like to thank the staff and players for helping me achieve this award, as I was not the only reason for winning.
What is your evaluation for the year of 2017 with Al Ahly and Egypt?
The year wasn't bad but it wasn't perfect either. We qualified for the World Cup with Egypt – a great achievement – but we also lost the CAF Champions League final with Al Ahly. You won't always win everything, but it is important not to lose everything.
How do you see 2018 for Al Ahly and Egypt?
The future is in the hands of God, but at Al Ahly we always play for all trophies. We want the Champions League to be specific. For Egypt, the World Cup itself is an honour for every player and we will try to do our best to make Egyptians happy.
Finally, who are the best 5 Arab players for 2017?
Mohamed Salah, then Omar Khrbin, Omar Al Soma, Issam Al Hadary and Omar Abdulrahman.