Transfers
Giroud to consider Arsenal exit during January transfer window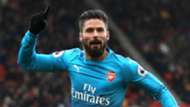 Olivier Giroud admits that he will consider a move away from Arsenal during the January transfer window to keep his World Cup dream alive.
The France international was among the goals for the Gunners in his latest outing, but once again he was forced to start a Premier League meeting with Southampton on the bench.
A record-equalling 17-goal return as a substitute helps to highlight how effective he can be as an impact player, but the 31-year-old is eager to find more starts.
That could force him away from Emirates Stadium in the new year, with the experienced striker aware that he needs minutes after opting against a switch over the summer – amid interest from the likes of Marseille and Everton .
"I have the World Cup at the back of my mind weekly, almost daily," Giroud told  L'Equipe .
"Each time I go onto the pitch, it's to be more clinical and keep on track for the World Cup."
He added: "If I wasn't able to leave this summer, it was because of the opportunities I had.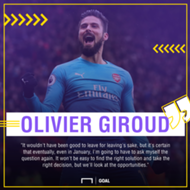 "It wouldn't have been good to leave for leaving's sake, but it's certain that eventually, even in January, I'm going to have to ask myself the question again.
"It won't be easy to find the right solution and take the right decision, but we'll look at the opportunities."
Despite preparing to weigh up his options with international ambitions in mind, Giroud claims that France boss Didier Deschamps has advised him against leaving Arsenal.
He added: "During international get-togethers, the coach usually warns me against that.
"He has told me the things he wanted to tell me, which is totally logical and I understand. He wants me to play more."
Giroud, who has passed the 100-goal mark for Arsenal this season , has found the target 29 times in 69 appearances for his country.
He has, however, seen just 252 minutes of Premier League football in 2017-18 and is yet to start an English top-flight fixture this term.