Premier League
Get ready for 'pre-pre-season' - FFD academy helping youngsters emulate Sancho, Hudson-Odoi & Foden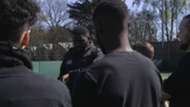 With the Women's World Cup, Under-20 World Cup, Under-21 European Championship and Copa America taking us well into June and July, it seems more than ever that top-level football never sleeps.
And it is certainly not any different for the young hopefuls who are still trying to get their big break in the sport.
Thanks to academies like FFDTV, skilled players who have not yet been signed up by pro clubs can receive quality training that has already helped some of the world's most talented prospects hone their skills.
FFDTV got its big break when young friends Jadon Sancho and Reiss Nelson turned up for a skills session at the age of 14. The session, as many now are, was filmed, and the video of the two youngsters strutting their stuff quickly went viral.
"I knew them from a young age," Dan "D" Gayle, founder of FFDTV, tells Goal. "I said, 'You guys come down', I'd seen them do tricks before but we were going to film this one, and the video went viral. I think 40 or 50 media outlets posted it. At that time we knew that we were on to something special.
"People knew those two in the game. People in academies across England, even across Europe, knew them two. We wanted to express that England have players with the skills that people more associate with South America."
In the years since Sancho and Nelson first took part in one of D's sessions, FFDTV has realised that goal of showcasing the talents of some of England's most exciting young players.
The "Team FFD" roll call now includes the likes of Demarai Gray, Marcus Rashford, Ruben Loftus-Cheek, Phil Foden, Ryan Sessegnon, Ben Chilwell, Angel Gomes, Callum Hudson-Odoi and Tammy Abraham.
Despite being signed up to pro clubs, each of those players have attended sessions with D, or simply popped down to show off their skills, highlighting their determination to make the best of their talents by doing extra work outside of their club duties.
While skill videos posted on Twitter and Instagram have helped FFDTV grow a social media presence in the past few years, the training sessions they put on for young players are starting to have a big impact.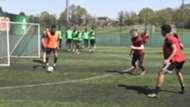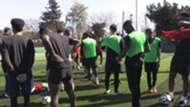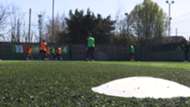 Of course, the daily contact with coaches at professional clubs has had the biggest say in players like Rashford and Sessegnon playing regular Premier League football, but D's sessions are proving valuable to many more young players still hoping to make the grade.
Recently, a team of FFD hopefuls coached by D have pitted their wits against professional academies such as Derby, Southampton and Swansea, offering them the perfect opportunity to see the level they need to reach up close.
D's sessions are not just about skills; there is a big focus on match-specific fitness and certain tactical drills.
"I've been coming here for about eight months now so I've played against a lot of different opposition," says Shakeel Morris. "I would say fitness-wise I have improved 50 per cent. My first touch, receiving it on the half-turn, these kind of aspects of my game have improved."
There is only so much that can be done with comparatively limited time, however. 
"When we're playing against clubs, what would win us the game?" D adds. "We can't go to Southampton and out-play Southampton, they train four or five times a week, they know patterns of play inside out. We're here two or three times a week but some boys come once a week, and you can't work on patterns of play."
They did beat a Swansea City academy side 3-2 recently, however, and there is plenty of value in the sessions, particularly at this time of year when players are put into "showcase games" where they are given the opportunity to stand out.
And right now is "pre-pre-season" - sessions designed to keep players sharp as they prepare to catch the eye of professional scouts and coaches during the summer.
"We call it pre-pre-season," D says, "which will get players prepared for pre-season. It's not just going into pre-season with a club, we like people to be prepared before they go in. If trials come about, opportunities come about, we want them to be sharp. So it's an important part of the season, we never switch off here, winter time or summer time it's work."