Joachim Löw
Germany must stick with Joachim Low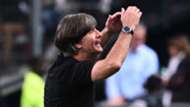 Joachim Low has had a torrid year. Four years on from leading Germany to its fourth World Cup, Low has experienced a tremendous decline.
In the 2018 World Cup he witnessed his team suffer an ignominious group stage exit after losses to weaker sides like Mexico and South Korea.
Now in the Nations League, Germany have failed to qualify for the semi-finals and while many will feel he deserves the boot, that shouldn't be case. In fact Low should be given the chance to rebuild the German national team.
A few bad results and people seem to forget it was he who engineered Die Manschaft's fourth World Cup triumph.  Yes, the national team is in a state of flux but every team goes through that when you factor in the likes of Italy and Netherlands: both failing to qualify for the World Cup in Russia.
Also results in a competition like the Nations League shouldn't be given much attention. It is a strange competition after all having to play top quality team for weeks.  Losing to France or Netherlands shouldn't spark outrage as these are world class sides.
Prior to the Nations League, Germany traditionally would record excellent results in qualifications as they would face minnows, top teams and middle strength teams but would always qualify. Moreover another problem with German football and not Low is the fact that there hasn't been a replacement for Mirosav Klose.
Timo Werner is supposed to be the heir to Klose's throne but is still young and needs time. German football is stacked with players who are top attacking midfielders but no quality forward. Conversely, Low has presided over the national team for more than a decade, his experience and achievements warrant that he leads his nation into Euro 2020. Now should he fail, then the panic button can be pushed.