Bayern München
Germany and Bayern Munich legend Oliver Kahn to train aspiring goalkeepers in Cape Town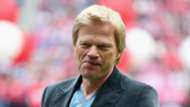 Legendary German goalkeeper Oliver Kahn is expected to visit Cape Town this weekend. 
The former Bayern Munich captain will train aspiring youth goalkeepers between the ages of 12 and 17 during his stay in the country.
Kahn, who retired from professional football in 2008, established GoalPlay two years ago, and the organization will host the Train N' Fight Challenge in collaboration with the Safe-Hub on Saturday.
This was confirmed by AMANDLA in a press release:
"Entrepreneur and founder Oliver Kahn, one of the greatest and most successful goalkeepers of all time, will visit the Oliver Kahn Safe-Hub for the first time in November. The Oliver Kahn Foundation has partnered with and supported AMANDLA since 2013. Through this partnership, Oliver Kahn has provided enormous contribution to the construction and development of the Safe-Hub situated between Gugulethu and Manenberg (Western Cape)."
"In continuation of his previous support, Oliver Kahn and his company, GoalPlay, will host the Train N' Fight Challenge in collaboration with the Safe-Hub. The Train N' Fight Challenge will give aspiring youth goalkeepers between 12 and 17 years old the opportunity to train in a professional environment with highly-acclaimed coaches. Revolutionary training exercises paired with the expertise of Oliver and his team promise an exciting event for both participants and guests."
"GoalPlay is a company founded in 2016 by legendary German goalkeeper Oliver Kahn along with his colleague Moritz Mattes. Their mission is to optimise performance of goalplayers and their coaches of all levels. GoalPlay offers education, training and support to associations and clubs with services ranging from individual training sessions to long-term partnerships in all areas of training and game operations. For more information about GoalPlay, visit www.goalplay.com or www.goalplay-academy.com."
"AMANDLA is an international social enterprise based in South Africa and Germany. Its award-winning approach to youth development – the Safe-Hub Social Franchise Model – is designed to disrupt the intergenerational cycles of poverty, unemployment and inequality that trap young people growing up in disadvantaged communities. A Safe-Hub is a physically and emotionally safe space where young people access services, opportunities and support from strong role models through a football-based programme system that focuses on health, safety, education, and employability. For more information, visit www.amandla.net or www.safe-hub.org," the statement concluded.
The event will take place at Oliver Kahn Safe-Hub Gugulethu Manenberg, on 3 November 2018 from 11am to 3pm​