Australia
From the Mariners to Iceland: Aussie keeper's incredible journey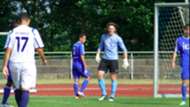 With ginger dreadlocks and a bushy beard, Jonathan Faerber looks like he belongs in the wilderness of Iceland - but it's actually a long way from home for the Sydney-born goalkeeper. 
Recently signed by Icelandic first-division side Keflavík, the 30-year-old's route to the club has been far from straight forward.
"It is not a direct path at all. I've bounced around a lot between clubs," Faerber told Optus Sport. 
"My goalkeeper coach when I was younger was John Crawley and one consistent piece of advice was always look for game time."
That quest saw him depart Australia in 2014 after finding A-League opportunities hard to come by and has ended, for the time being at least, in Iceland.
"I actually got pulled into train on spot for Central Coast Mariners but had to make the choice to sort of drop out of there because I wasn't getting game time," he said
"Found myself with a German fifth-division side, which isn't a bad place to start. Was with the team for a season, got drafted into a fourth-league side and then I ended up with a sixth-league side.
"Then I moved briefly to L.A. - this is where the Icelandic trainer came in to offer me a chance to train over here and start in the third-division here in Iceland. This year managed to find my way into a first-league side and it has been a very long, winding path."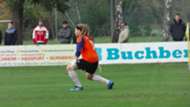 Working as a groundsman as well as a goalkeeper for the club, Faerber has had a difficult first season with Keflavík, who sit bottom of the league without a win from 19 games and will struggle to avoid relegation. 
Faerber for his part has only played three games, but despite the poor results is simply happy to be living his football dream and is savouring life on the other side of the world.
His advice for other Australian footballers?
"Look for a foot in the door somewhere, anywhere!"
Check out Faerber's full incredible journey to Iceland below.
— Optus Sport (@OptusSport) September 6, 2018