Ligue 1
From Ligue 1 to superstardom: Jean-Pierre Papin - the Nine of Hearts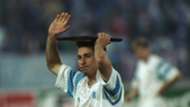 "I think that goalscoring is something that is born in a person – it's in the blood." 
It was most certainly in the Papin blood, Jean-Pierre's father Guy having enjoyed a respectable career of his own.
"The question of who I would be when I grew up was never one I asked. My father also played football, and the love of the sport was in my genes."
Born in Boulogne-sur-Mer in Northern France, it was clear from an early age that Jean-Pierre had inherited Guy's talents, and instantly evident he would likely go on to surpass his father's achievements.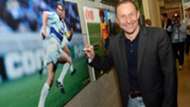 After being spotted banging in goals in youth football, he was quickly entered into one of the French Football Federation's (FFF) fast-track academies, joining the National Football Institute at Vichy.
Earmarked as a precocious talent from the day of his arrival, Jean-Pierre's path would change course, however, as the break-up of his parents' marriage saw the boy with unquenchable thirst for goals join his grandmother in Germont, close to the Belgian border.
At 15 he joined Valenciennes and hit 15 goals in his debut season with the first team a few years later, attracting interest from across the border as Club Brugge came calling.
"Bruges is where it really all started for me," he told Uefa.com. "It will always have a special place in my heart as this is where my international breakthrough came."
32 goals in 43 games convinced then-France coach Henri Michel to take Papin to Mexico for the World Cup of 1986, and it was his goal that gave Les Bleus victory in their opener against Canada.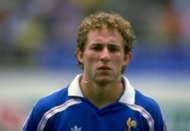 He would have to wait for his second goal, however, missing a number of chances throughout the tournament before striking in the third-place play-off as France beat Belgium to seal bronze.
Papin had been something of a surprise call-up, with his critics pointing out that he never even played top-flight football in his homeland.
That would soon change, though; as would any debate over his supreme ability. Following his exploits in Mexico, Papin was snapped up Marseille, where he would go on to become a Ligue 1 legend.
Quick, strong, and ruthless in front of goal, Papin scored goal after goal, finding the net 156 times in 270 Ligue 1 appearances, via countless different methods.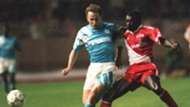 From neat, chipped finishes, low drives into the corner, towering headers and, in particular, thumping volleys, the goals kept on coming.
He was the league's top scorer in five consecutive seasons between 1988 and 1992, leading the club to four consecutive Ligue 1 titles and won the Ballon d'Or in 1991 as France Football voted him the best player in Europe, and came second behind Lothar Matthaus in the FIFA World Player of the Year awards.
Ligue 1 could contain him no longer, and he joined AC Milan in Italy for a world record fee of £10 million in 1992. He would lift the UEFA Champions League and two Serie A titles with the Rossoneri before moving onto Bayern Munich in Germany.
In 1996 he returned home for another crack at Ligue 1, netting 22 goals in 55 games for Bordeaux.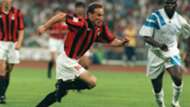 One of Europe's greatest ever strikers, Papin appeared on Pelé's list of the best 120 football players alive in 2004. He later ventured in coaching, with spells at Strasbourg and Lens.
His father's son, Papin did it all, and now spends most of his time being a father himself.
His daughter, Emily, was diagnosed with cerebral palsy as an infant, and Papin and his wife Florence now run the Nine of Hearts foundation, which provides support to families affected by the neurological disorder.