MLS
Former U.S. national team forward Charlie Davies announces retirement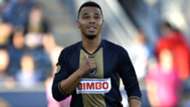 Former U.S. national team forward Charlie Davies has announced his retirement from professional soccer. 
The 31 year-old, who last played in MLS with the Philadelphia Union, made the announcement in a video posted on his Twitter account. 
Davies burst onto the scene at club level with Swedish side Hammarby, earning a 2009 move to Sochaux in Ligue 1.
In the meantime the Boston College product broke out with the national team, helping Bob Bradley's side to the final of the 2009 Confederations Cup. 
With his potential looking limitless, Davies' career was brought to a devastating halt by a 2009 car accident that left one passenger dead and left Davies with a lacerated bladder, fractured right tibia and femur, a fractured elbow, multiple facial fractures, and bleeding on the brain. 
With his career in danger, Davies embarked on a long and painful rehab that resulted in a successful return to the playing field in 2011 with MLS side D.C. United. 
The striker would go on to feature for the New England Revolution and Philadelphia, scoring 25 goals over six total MLS seasons.
Davies had to overcome another obstacle in 2016 when he was diagnosed with a rare form of cancer, but he announced that he was in remission at the same time he revealed his diagnosis. 
Davies ends his career with 11 professional seasons played and 17 caps for the U.S. national team. He never played for the USMNT again after his 2009 car accident. 
"I've loved every second of my time on the field even the desperate lows of injury and cancer that have made the highs all that much sweeter," Davies said in the video on Twitter.
"I've loved the friendships, the competition and I've loved all the amazing people on both sides of the fence."