Augusto Palacios
Former Orlando Pirates head coach Augusto Palacios applauds South African football development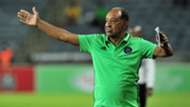 The Discovery Walter Sisulu Soccer Challenge is seemly becoming intense for the coaches as they seek to ensure that their teams move forward in the tournament. Business is not a sport but great coaching is just as important to success in the office as on the field.
Known as one of the best development coaches on the African continent, Augusto Palacios believes that South African football has much to offer if the administration is coordinated well.
Palacios has coached a number of prominent clubs in the country as well as the South African national senior men's team. His wealth of experience as a coach also includes the Hong Kong National Women's national team, making him an asset in the football community.
The Peruvian has groomed talents such as Thabiso Monyane, Azola Lungile, Lungile Makambi and Lorenzo Gordinho just to name a few.
"I believe that in order for South African soccer to be at a higher standard, we need to start developing these players from the tender age of 9 because this is where you can identify their strengths and weaknesses. Some coaches only want to polish players when they are between the ages of 17 and 19 which is too late. Not all players are as lucky as Teko Modise, who reached the peak of his career at the age of 26 that is considered late for any other footballer's career." said the legendary coach.
He furthered explained that having soccer tournaments like the Discovery Walter Sisulu Challenge makes it accessible for clubs and academies to scout raw talent.
"Such tournaments give players a platform to be scouted by coaches like myself,   especially since the tournament takes place during the  December school holidays, it is a refinement ground because there is less PSL action happening so clubs have enough time to come and seek new talent. Most people think that once a player has been scouted, it ends there - we need to evaluate the capacity of talent the player has."  Palacios concluded.