South Africa
Former Banyana star on the verge of coaching history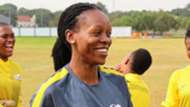 Former Banyana Banyana star, Maude Khumalo could become the first ever female coach to guide a men's team into the SAB League, the fourth tier of professional football in South Africa.
Upon retiring, Khumalo took up a coaching position at TUT Soshanguve [Tshawne University of Technology] campus in 2015 where she led the side to a top eight finish. In just a year, Khumalo guided the club to the second place where they narrowly missed out on promotion.
But the recently completed season would be different for her charges as they amassed 21 wins, four losses and a single draw in 26 games to qualify for the promotional playoff set to take place this weekend.
"Yes, it is unusual for a woman to coach a men's team but I believe I should be solely judged by my work and people shouldn't be surprised that I am doing well as a woman. I am not here to compete but want to showcase my knowledge of the game which has nothing to do with my gender," said Khumalo while downplaying the difficulty of being a women coach.
Growing up, Khumalo wanted to be a professional psychologist but believes her involvement in community football as a coach is substitute enough for what she wanted to become.
"Even though I am not yet a physiologist, I believe coaching helps me change and make a difference in the lives of young people in my community."