FIFA Under-17 World Cup: Kerala HC demands shops to be shut by Sept 25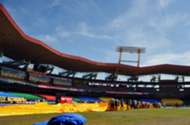 Greater Cochin Development Authority (GCDA), the body which owns the Jawaharlal Nehru International Stadium in Kochi which is one of the venues scheduled to host the upcoming FIFA U-17 World Cup from October 6 to 28, had landed in hot water with FIFA over non-adherence to the guidelines regarding shops inside stadium complex.
The football governing body had earlier demanded all business establishments inside the stadium complex to be shut down for a specific period that lasts until the end of the tournament which takes place in October.
The owners of these shops which have been a part of the stadium complex for a long time were clearly against such a closing down and took the matter to the High Court of Kerala. On Saturday, the Kerala HC settled the matter by demanding business establishments inside the Jawaharlal Nehru International stadium to shut shop by September 25 in order to ensure the smooth functioning of the upcoming youth football's mega event.
The court has also ordered the GCDA, the owner of the stadium, to deposit a sum. Speaking to Goal, Mohammed Hanish IAS, nodal officer for the tournament in Kochi, said, ''The court case has been settled. A sum of 25 lakhs will be deposited by GCDA.''
Regarding the heavy financial liabilities that the business establishments are likely to suffer, the High Court claimed that those can be settled through a civil court. The order on this episode is expected to be passed by High Court of Kerala on Monday.
Kochi is scheduled to host a total of eight matches, including the opening-day group-game on October 7 between Brazil and Spain, the tickets for which have been sold out.