Nigeria
Fifa Ranking: Nigeria women end 2017 in 37th place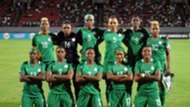 Nigeria's senior women team dropped two places to 37th  in the latest Fifa world ranking released on Friday.
The reigning African queens began 2017 as the 34th best nation but crashed three places at the end of the year owing to their 12-month hiatus.
 
Despite the slip, Nigeria remain the best team in Africa followed by Ghana (46), Cameroon (48), Equatorial Guinea (53) and South Africa (54) to complete the top five.
On the global stage, USA finished 2017 as the world's best team for the third successive year, with Germany, England, Australia, and Canada wrapping up the world's top five.
Spain, Republic of Ireland, Northern Ireland, Kosovo, Kenya, Zambia, Tanzania are the biggest movers of 2017. 
While Mozambique, Malawi, Lesotho, Swaziland made a return to the ranking after ending years of inactivity with the 2017 Cosafa Women's Cup.
Cote d'Ivoire, Tunisia, Morocco, Algeria, Senegal, Guinea and Burkina Faso were expelled from the ranking owing to prolonged inactivity.
The first Fifa ranking in 2018 will be published on Friday, March 23, 2018.