WTF
Fan's birthday ruined by horrendous photo with Liverpool squad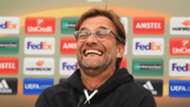 Many football supporters dream of one day meeting their favourite players, and maybe even taking a photograph as a souvenir.
That's exactly what happened to Liverpool supporter Amy Deane, who ran into her idols on her birthday - meeting Jurgen Klopp and some of his squad before Sunday's 2-2 draw with West Ham.
'Hart could have helped Liverpool win title'
Deane, and husband Mike, were warmly received by the Reds squad, who offered to pose for a photograph with the couple.
However, after they sang 'Happy Birthday to Amy', the picture the couple took with the Liverpool players turned out to be a disaster.
Instead of a grinning Klopp and company, what the Deanes got was just a photograph where no-one's head can be seen - except for Mike!
"The greatest photo that never was," Mike wrote on his Facebook page.
"Today is Amy's birthday. she is working today. after dropping her into LIPA this morning, through a bit of birthday magical chance, the entire Liverpool FC squad (lead by her hero, the dreamboat that is Jurgen Klopp) strolls past her standing outside her office.
"Jurgen is told it's her birthday and he himself initiates the entire LFC player gang to sing her happy birthday on Hope St in front of the Anglican Cathedral. we then posed for a picture to mark the this surreal moment and this is how it turned out. tragic, hilarious, unbelievable."
Despite the initial calamity, Amy later caught up with the Reds boss for a selfie, while Mike promised to frame the original, disastrous photo in their house!