Malaysia U23
FAM submit report to AFC over international friendly brawl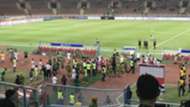 The fight that broke out towards the end of the friendly between Malaysia and United Arab Emirates marred what was a very splendid 2-0 win for the former at Shah Alam Stadium on Friday night.
An extremely heavy challenge on Adib Zainuddin sparked a free-for-all that spilled out into the technical area, needing security to rush onto the scene to calm the situation.
But in reality, it was already a game that was threatening to boil over after several rash and heavy challenges that got both players and officials riled up throughout the match.
As the UAE team departed from the stadium immediately after the incident, without even going through the necessary post-match press conference, FAM knew they had to react.
Datuk Hamidin bin Mohd Amin, the president of FAM and Stuart Ramalingam the general secretary of FAM were both present at the match and knew they had to get things sorted prompty.
In a statement released just 12 hours after the incident, FAM have revealed that they have submitted a report to Asian Football Confederation after prior discussions with UAE Football Association and AFC.
Full statement read;
In regards to the brawl that took place towards the end of the international match between Malaysia U-23 and UAE U-23 at the Shah Alam Stadium last night, the FAM President, Dato' Haji Hamidin Haji Mohd Amin and I have acted promptly.

Dato' Haji Hamidin and I immediately held discussions with UAE FA through their General Secretary, Mohammed Hazzam Al Dhaheri and Vice President, Abdulla Naser Al Jneibi along with General Secretary of the Asian Football Confederation (AFC), Dato' Windsor John.

After the discussion, FAM received a formal letter from UAE FA stating that they apologise for the incident and take seriously of what happened and will be conducting an internal investigation for actions to be taken against players and team officials involved.

On FAM's side however, we will be submitting a report from the Match Commissioner (MC) and referee to AFC today and will follow up with AFC if they need anything else after AFC examines the reports from all parties.
It remains to see what kind of punishment is handed out and if it will impact participation of both Malaysia and UAE in the Asian Games.