Videos
Extreme violence in Argentina as Union de Tortora players punched, stoned and assaulted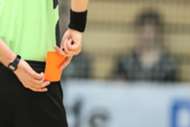 It has been said of Lionel Messi that he could not reproduce his magic on a wet Tuesday evening against Stoke City - but his compatriots know what a really tough away day is!
Having won 3-0 in their Argentine Federal C first leg against Parque Sur, Union de Tortora were geared up for a tough rematch in Concepcion del Uruguay. 
What they did not expect, however, was a hellish fixture against a home side determined to use every trick in the book to triumph. 
Marcelo matching Roberto Carlos
Having been unable to reach the stadium in coach after being pelted with stones from neighbouring houses, Union were forced to change in a police station car park and arrived in taxis and squad cars. 
And once on the pitch, the visiting players were continually hit by projectiles hurled from the stands, while one man was punched in the face by a member of the Parque Sur coaching team and a club flag was burned in the stands. 
Amazingly, despite all their tribulations Union somehow managed to win 2-1, progressing into the third round of the fifth-tier division 5-1 on aggregate. 
Losing in such a fashion only infuriated the local support further, leading to riots around the stadium and clashes with police that left two officers wounded.
Bruised and battered Union, meanwhile, go on to face Arsenal de Viale in the next stage, where they will be hoping for slightly less adverse conditions away from home.