Africa Cup of Nations
EXTRA TIME: Watch Bafana Bafana training in Egypt for the Afcon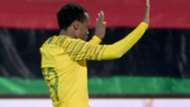 Bafana Bafana received a major blow to their preparation plans when Angola pulled out of their friendly game on Wednesday.
The Angolan management stated that their team hasn't trained adequately to honour the game, leaving South Africa with just one preparation match in total for their pre-Africa Cup of Nations (Afcon) period. That game was a 0-0 draw against Ghana in the United Arab Emirates last week.
Nevertheless, here we can see the Bafana players arrive for training in Egypt. There are also videos of the players warming up and then training.
The South Africans will need to make sure they are completely fit, as the conditions are expected to be quite hot for this Afcon in Cairo.
Bafana take on Ivory Coast in their first match in Cairo on Monday. They also play against Namibia and Morocco in the group stage.
Bafana Bafana arriving for their first training session in Cairo, Egypt on Tuesday afternoon pic.twitter.com/4RoiMHWtK7

— Bafana Bafana (@BafanaBafana) June 18, 2019
Bafana Bafana have safely arrived in Cairo, Egypt for the AFCON tournament.
Here, coach Stuart Baxter receives a welcoming AFCON 2019 plaque from the LOC upon arriving at Cairo International Airport early this morning, Tuesday, 18 June. pic.twitter.com/AKcQZiQN2O

— Bafana Bafana (@BafanaBafana) June 18, 2019
Bafana Bafana warming up before training at Aero Sports Center in Cairo, Egypt on Tuesday afternoon. pic.twitter.com/KuZer648xC

— Bafana Bafana (@BafanaBafana) June 18, 2019
Goodbye Dubai.
Bafana Bafana leave Dubai for Egypt today.
They play Angola on Wednesday in Cairo pic.twitter.com/SE12w8976I

— Bafana Bafana (@BafanaBafana) June 17, 2019
Bafana Bafana have safely arrived for #AFCON in Egypt pic.twitter.com/5jfYgqXfl5

— Sports Africa (@SportsAfrica4) June 18, 2019
The predicted weather at kick-off during Bafana Bafana's opening clash against Ivory Coast next week Monday at 16:30 is 39°C.#Soccerzela pic.twitter.com/QBuRepr9fg

— Soccerzela (@soccerzela) June 18, 2019