World Cup
EXTRA TIME: Van Wyk reminds Ibrahimovic of fish and chips bet with Beckham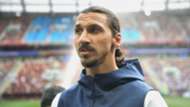 Banyana Banyana star Janine Van Wyk has made many Tweets about Russia 2018 as she watches each game.
In this one she is having a laugh at a bet between England and Sweden legends, David Beckham and Zlatan Ibrahimovic respectfully.
The common denominator here is that Van Wyk is a Manchester United fan, and she's talking about a bit of banter between the two former United players.
We must say that a fish and chips meal is not as bad as what some other legends had promised to do if they lose a football bet.
I guess @Ibra_official will be tasting and eating them Fish and Chips with looong teeth  https://t.co/5JyAeKizaX

— Janine Van Wyk (@Janinevanwyk5) July 7, 2018