WTF
EXTRA TIME: South African teenager's Thailand dream to become real in UAE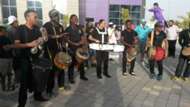 SimSport Eagles' Rastoem Simons read about how Maskini couldn't fly to Thailand because of complications with his passport. 
The youngster's SA passport was scanned as belonging to DR Congo, because his family was originally from there. However Maskini was born in South Africa and he sadly had to watch his teammates leave him for the plane, while he sat back in the Cape Town airport.
After reading this unfortunate story in Independent Newspapers, Simons organised for Maskini to join his development team in Dubai next year, and by then there shouldn't be any problems with his paperwork. 
"Well, I saw George's story last week and then saw his story yesterday (on Thursday) and I felt very unsettled," Simons, managing director of Simsport Eagles told the Cape Argus.
"I'm just glad I am able to assist them with giving George an opportunity to do what he loves," Simons added.
LIGHT AT THE END OF THE TUNNLE: Read all about a miraculous breakthrough. George Maskini will be leaving for Dubai next year after a Good Samaritan picked up @TheCapeArgus story. Full details tomorrow! pic.twitter.com/qXJQFYHy4k

— Marvin Charles (@MarvinCharles17) November 30, 2017
LOOK: The deputy minister of Home Affairs hands over George Maskini's passport!!! @TheCapeArgus pic.twitter.com/k4gDoktFbu

— Marvin Charles (@MarvinCharles17) November 23, 2017