Kaizer Chiefs v Orlando Pirates
EXTRA TIME: South Africa reacts to Soweto Derby draw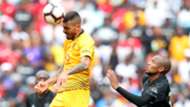 Daniel Cardoso opened the scoring for the Amakhosi from the penalty spot, after Asavela Mbekile fouled Khama Billiat inside the box.
Thembinkosi Lorch then drew Orlando Pirates level and denied Kaizer Chiefs all three points, ten minutes before full-time.
Ben Motshwari's pass found him and he then rounded goalkeeper Daniel Akpeyi and scored for Bucs from a difficult acute angle.
Both teams could've taken all three points late on but both sets of fans will be relieved to have avoided defeat.
Here's how both Pirates and Chiefs fans reacted to the match, including some media Tweets and outstanding photos of the supporters at the stadium.
Lorch..!!!🔥🔥🔥🔥 This Guy .!!!🔥🔥🔥 player of the Season. He loves playing against Chiefs doesn't he..👏👏👏👌 #SowetoDerby
Chiefs 1-1 Pirates

— Amanda toki Dlamini (@Amanda_Dlamini9) February 9, 2019
It's on already!!!

Botha and @JabuMahlangu12 asking an important question b4 the #SowetoDerby

"Yini iAskies...????!!"
🤣🤣😂😂😂🤣🤣😂🔥🔥

LIVE on SS4/HD at 14H00!! #SowetoDerby pic.twitter.com/LMDuGdtA0w

— robertmarawa (@robertmarawa) February 9, 2019
I hope we will all be treated to a great game this afternoon.
🤗🤗🔥🔥🔥👑🇿🇦🇿🇦👑❤️🤗🤗💃🏻💃🏻👏👏
May the best team win, but may football be the biggest winner.! pic.twitter.com/eMS34e6y9S

— Amanda toki Dlamini (@Amanda_Dlamini9) February 9, 2019
90 + 5'| #KC 1 : 1 #OP

Full time score: (Cardoso. pen 53') Kaizer Chiefs 1 : 1 Orlando Pirates (Lorch 80') #TheBattleIsOn #HailTheChief #SowetoDerby #WozaNazo pic.twitter.com/exfpFUJNPR

— Kaizer Chiefs (@KaizerChiefs) February 9, 2019
Not a good derby...lacked quality

— Mike Makaab (@MikeMakaab) February 9, 2019
The moment Daniel Cardoso gave @KaizerChiefs the lead in the #SowetoDerby and the moment Thembinkosi Lorch equalized for @orlandopirates . A point each a fair enough result at a pulsating Soccer City... #AbsaPrem pic.twitter.com/RzrFAPSsgQ

— Jermaine Craig (@JermaineCraig07) February 9, 2019
Watching the #SowetoDerby at Soccer City is always a moment to savour. The atmosphere is always electric!😁⚽ pic.twitter.com/5sgt1IDStz

— Katleho Bogatsu (@katleho_bogatsu) February 9, 2019
This party must Happen again soon its been long now 😍❤🔥🤣 and this time Different location .....BBW party #SowetoDerby pic.twitter.com/hJwzYwQr6w

— Gordon Ramaphosa (@Ngiya_Hlanya) February 9, 2019
Boooooooooooring #SowetoDerby https://t.co/8wKJBliocZ

— Sundowns Fanatic 🌟 (@Madumetja_SoLo) February 9, 2019
#SowetoDerby pic.twitter.com/yjmpnxaYvU

— 😏🍉VOTE EFF (@Mpumi_Mzee) February 9, 2019
It's a 1-1 draw but it feels like a loss to KC & a win to OP. Once Always 👌🏽 #SowetoDerby

— Make It Happen! (@JabuBaloyi) February 9, 2019
Middendorp take of your mask we know you are Solinas. #AbsaPrem #SowetoDerby ⚽ pic.twitter.com/hTe8qnNa52

— 🇯ay 🇿🇦 (@JayNtuli) February 9, 2019
poor decision from Khosi coach for starting to defend in the 65 min #SowetoDerby

— Emkay_thugzin (@EmkayMncedisi) February 9, 2019
Sooo how was the #SowetoDerby ?^TK pic.twitter.com/K73YjWYAyM

— City of Joburg (@CityofJoburgZA) February 9, 2019