WTF
EXTRA TIME: Montecasino prepares for the Fifa18 World Cup qualifying tournament in South Africa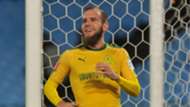 Last year seven million players participated on the road to the eSports World Cup that took place in London.
In South Africa, during the VS Gaming Festival, they are taking things to the next level by sending two South African representatives to compete in the eWorld Cup Playoffs. You could make our country proud by taking on the world's best Fifa players on your road to the global finals. VS Gaming are hosting the first official South African qualifiers for the most prestigious FIFA tournament in the world.
The eWorld Cup Playoff qualifiers will feature an online qualifier and a live event qualifier with a grand prize pool of R1.5 million in cash prizes.
We heard that Sundowns star Jeremy Brockie will be there along with other PSL players, so it's an occasion that many football lovers will love!
With loads of entertainment lined up in this year's VS Gaming Festival you don't want to miss out!

Make sure to get your tickets from Computicket to join us at Monte Casino on 5 and 6 May. #VSGamingFestival pic.twitter.com/B3esHPm0Pv

— #Yfm (@Yfm) April 27, 2018
VS gaming Festival neh: I'm so there!

— Shabba Wabba (@LorryUndisputed) April 27, 2018
A place for the whole family to enjoy!

Make sure to be a part of this year's VS Gaming Festival by getting your ticket!

It's going to be a weekend to remember. #VSGamingFestival pic.twitter.com/vn6c6QlFHM

— #Yfm (@Yfm) April 26, 2018
@VSGamingWorld is stepping it up a notch, and you won't want to miss out!  The VS Gaming Festival at MonteCasino on May 5-6 will feature the FIFA eWorld Cup Qualifiers & will be a weekend to celebrate gaming with some of SA's gaming celebrities. https://t.co/c0fYkSIS8J pic.twitter.com/luUGGGToAF

— EsportsIndustrySA (@eSportsIndySA) April 23, 2018
It's that time of the year again - the @VSGamingWorld Festival is on 5-6 May at Montecasino  @rikyrickworld & @CassperNyovest will be there turning it all the way up Get your tickets now - https://t.co/2fdDgEyv3R  #Revolve #vsgaming pic.twitter.com/VZpmludD0a

— Revolve Talent (@Revolve_Talent) April 17, 2018
Ya'll play Fifa? There's a tournament at the VS gaming festival at Monte Casino 5th May 1.5 Mil in prize

— SLYME® (@SlymeSA) April 13, 2018
The most epic console and entertainment event is back in these streets! VS Gaming Festival FIFA eFootball online qualifiers will be all types of flames! Catch the stream live: https://t.co/V2eedJxUtO #VSGamingFestival #FIFA18 pic.twitter.com/IV7IU9iMfo

— VS Gaming (@VSGamingWorld) April 7, 2018