Transfers
EXTRA TIME: James Keene and Bradley Grobler on Sanchez leaving Arsenal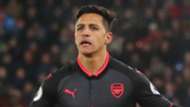 Arsenal's linked with Manchester United midfielder Henrikh Mkhitaryan and Dortmund's Aubameyang.
However they will then lose Alexis Sanchez to the Red Devils. These potential signings are close and even got PSL stars talking in South Africa.
So, how will all these movements influence the future of Mesut Ozil? Find out on Goal.
Will the Sanchez deal ever happen?? If so who's getting the better deal Arsenal,, Cash plus Mkhitaryan... or Man U Getting Sanchez.??? For me I take Sanchez all day long think Man U really need a player like him, creative and scores goals. #Sanchez

— James keene (@28Jkeene) January 18, 2018
Sanchez all day. Think we could shift a few more to Arsenal as well. #Harrera

— Bradley Grobler (@Bradley_Grobler) January 18, 2018
Definitely, Ozil will follow soon.

— James keene (@28Jkeene) January 18, 2018