PSL
EXTRA TIME: Hans Vonk reminds Cape Town to save water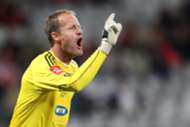 Day Zero has consistently been moved back thanks to the city reducing their water usage.
So, the longer the city saves water, the longer it would take for Day Zero to start and the longer the city will have enough water to hand out. 
Here's the former Bafana Bafana goalkeeper Hans Vonk urging the public to save water.
#SaveWater #EveryDropCounts pic.twitter.com/knEWn14UC1

— Ajax Cape Town (@ajaxcapetown) February 23, 2018