WTF
EXTRA TIME: Does Benni McCarthy support Manchester United or just Jose Mourinho?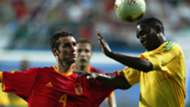 So, does this mean McCarthy is a Manchester United supporter? 
One fan asked him the very same question and we didn't get an answer yet. 
"Well done boys," Benni wrote.
What boys? Are United's players his boys, his favourite players?
We've watched McCarthy present games on television for years and he's understandably always backed his former clubs such as Porto.
On other occasions he's shown tremendous support for his former coach, Jose Mourinho. And, just like other Portuguese soccer fans that we know in South Africa, they do tend to support Mourinho, no matter which club he's at.
So, that's it then? Benni's not a real Manchester United fan? Or is he? Does it matter to you?
Orlando Pirates fans are wondering. Let's wait for McCarthy to clear up his statement. 
This ManU victory taste ever so sweet Amazing tactical master class from the Boss Mourinho well done boys pic.twitter.com/Vz4uPNuTH4

— Benni McCarthy (@bennimccarthy17) April 16, 2017