Wan Kuzain
EXCLUSIVE: Wan Kuzain on playing pro soccer in US and his first ever Malaysia visit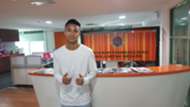 ---
BY        ZULHILMI ZAINAL       Follow on Twitter
---
Malaysian-American midfielder Wan Kuzain Wan Kamal has been attracting keen interest from football fans in his parents' birth country, Malaysia over the past few years, and many were understandably surprised to see him recently visiting Malaysia, where he has been since late November.
After all, by his own account the 19-year old has never been in Malaysia, and he last month was announced to have signed a professional contract with Swope Park Rangers in the United States' second tier; United Soccer League (USL).
Goal managed to get in touch with the youngster, and with the assistance of Malaysia's National Football Development Programme (NFDP) chief executive officer Safirul Azli Abu Bakar, scheduled an interview with the youngster at NFDP's office at the National Sports Council headquarters in Bukit Jalil.
Sadly, fans who dream of watching him play in Malaysian colours or for M-League clubs will have to wait longer, as his visit is not a permanent one.
"I've been here for about one week, mostly with the NFDP people, they're willing to help me out just out of goodwill. They have a big youth football programme here, and they've been helping me meet the right people
"I'm also planning to go back to Kelantan where my dad is originally from, maybe a day trip before I go back (to the US)," he remarked.
But most importantly for him, the visit was conducted in order to secure sponsorships and fundings, which will assist his career.
"This is something that is new to me," noted the midfielder, "because I've just turned professional. When you look at the best athletes, they're not just able to play on the field but also endorse their brand.
"At the end of the day, you're your own brand and you want to show people who you are. And the best way to do that is by marketing yourself, that's what I'm looking for.
"Currently I cannot mention any specific companies, but I want to be with companies with the same vision, passion and commitment," the midfielder explained.
And it is this emphasis on off-the-pitch matters which indicates that Kuzain is a footballer who plans far ahead in his career.
"When I was around 16 I came up with a list of goals, I have it on my phone right now, one of them is to score 10 goals, something basic.
"Every month I'd add more stuff like talk to more colleges, as colleges are a big part of US soccer, and then play in the US academy all-star game which I managed to do.
"I looked back (at the list) a couple of months ago, and it was a good feeling to see everything crossed out!" said Kuzain with a proud smile.
And at the current moment, his immediate concern is to break into the first eleven of Swope Park in the 2018 season, following a successful debut season this year.
Kuzain made 13 appearances for them throughout the 2017 season, initially as an academy player, but in early November the club signed him on a full professional contract, ahead of the coming season.
The Rangers, who are owned by Major League Soccer (MSL) franchise Sporting Kansas City, reached the final of the USL Championship for the second season in a row this year, before losing 1-0 to Louisville City FC.
"Right now my main goal is to be on the first team. To grow and become the best at Swope Park, so hopefully I get to be there in one or two years," said the youngster.
But that is not enough for Kuzain. Further down his list is Europe itself, and the UEFA Champions League.
"In three, four or five years, I see myself playing in Europe at one of the biggest clubs.
"Walking onto the pitch for a Champions League match and hearing that anthem, getting butterflies in my stomach. That's where I ultimately want to be," revealed the Carbondale, Illinois-born midfielder.
After all, he has had taste of European football previously, having attended training with Dutch side Feyenoord back in 2014.
"Feyenoord managed to watch me in an end-of-the-year showcase, and they brought me over for trial. Every year for three years, for about a week and half or two weeks, for what they called an 'internship'.
"The purpose of the programme was to get me used to the facilities, the staff and coaches. It was such an honour to be a part of that.
"Feyenoord are such a huge club and are currently playing in the Champions League, one of the best clubs in terms of developing players. In my eyes, they are probably in the top five.
"In Europe you get that feeling in the academies that everyone there is fighting for, not just a spot, but also survival. Pro contracts don't get offered to everyone obviously, maybe one or two (players) in every class. It creates that special environment that can't be replicated, which can't be found in the US just yet," explained Kuzain. 
However, for the time being he remains committed to Swope Park and Sporting KC, and Kuzain spoke glowingly of the set-up.
"In the US overall, athletes are treated pretty well but at Sporting KC particularly they treat you like second to none. Whatever you need they'll get for you. I don't think it's like that at every club, even in Europe.
"Sporting also pay for my college education, as the MLS has a partnership with an university that specialises in online (education). As a player you don't have time to attend classes, and I also took online high school, and I turned out okay. Maybe I'm not book smart, but I have more of the street smarts!" joked the youngster.
When pressed by Goal, Kuzain admitted that the wage he received from Sporting KFC is comfortable, but revealed that he is careful with his spending, especially because he does not party nor drink.
"Being 19-years old, most kids my age are losing money, having to take out a loan to go to college and be away from their family. I'm blessed enough to be making money and obviously as an athlete I'm blessed to be given a lot of things. The money, the base salary is enough for me to live with my brother well above the means.
"One day it'd be nice to one day drive a nice car, start a family, have a nice house, but at the moment I'm just a 19-year old. I like to call myself frugal, I'm more of a saver than a spender. I don't go out shopping, which is hard here (Malaysia) because there are shopping malls everywhere!
"But I manage to save a good amount, and my parents instill the importance of saving into me," Kuzain remarked.
In the second part of the interview, Kuzain speaks about the mindset he needs in order to succees, the influence of his family and parents, and his thoughts on US soccer after the country's failure to qualify for the 2018 World Cup.