KPL
Ex-Gor Mahia coach Bob Oyugi wants KPL to tighten foreign quota system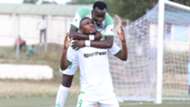 Former Gor Mahia coach John Bob Oyugi wants Kenyan Premier League teams to limit the number of foreign players they sign.
Currently, KPL rules allow clubs to sign upto five players per season, but Oyugi believes that the number should be reduced.
Even though Oyugi did not give a specific number or how clubs should go about the process, the former Kenyan international believes a quota system may give stability to Kenyan clubs and by default the national team.
Oyugi, who was reacting following the impending transfer of Ugandan Godfrey Walusimbi to Kaizer Chiefs, termed the situation 'technical blunder' that needs fixing.
"This kind of technical blunders must be rectified for the team to continue playing well. Walusimbis departure should not be the end of the world, but a lesson. Let's limit the recruitments of foreign players."
Oyugi, an alumnus of Alma Mater- Brazilian Football Academy, advises that Kenyan clubs should have faith in the local talents. "This same club (Gor Mahia) won the Nelson Mandela Cup with all our local players. Locally, we have dozens of better players than the foreign players in the Premier League.
"Those players have no benefit to our national team - Harambee Stars. The amount of money our clubs spend on foreign players is enough to build their stadiums!
"Kindly give priority to our locals first, and stop building other national teams at the expense of our players."