Juventus
Evergreen Buffon sets another Juventus record that leaves Del Piero and Zoff in the shade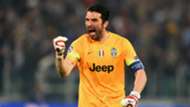 Gianluigi Buffon's place in Juventus folklore is already secure, but the iconic goalkeeper seems set on claiming as many records as possible before hanging up his gloves.
He claimed another one on Sunday in a Serie A meeting with Sampdoria.
Concern for Juve as Dybala forced off
During that contest, Buffon reached 39,681 minutes of competitive action for Juve in the Italian top-flight.
Nobody in the Turin giants' illustrious history can match that haul, with some legendary figures such as Alessandro Del Piero and Dino Zoff now cast into the shade of an imposing figure.
NOBODY has played more Serie A minutes for #Juventus than this man. Congratulations on your latest milestone, @gianluigibuffon #NumeroUno pic.twitter.com/Fj78i3CpCy

— JuventusFC (@juventusfcen) March 19, 2017
Buffon's first Serie A minutes for Juve arrived on the back of a record-breaking transfer from Parma in 2001.
He has been a model of consistency since then, with few injuries having held him back in the 16 years that have followed.
The 39-year-old would have broken Juve's top-flight minutes record before this point had the club not been forced to spend the 2006-07 season in the second tier.
He is there now and as he closes in on 500 Serie A appearances for the Bianconeri, he will be looking to end the campaign with an eighth title win to his name.