Ghana
Essien's wife Puni delighted with FC Como takeover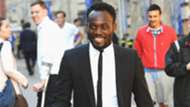 Ghana midfielder Michael Essien's wife Akosua Puni-Essien has revealed her excitement following the takeover of Italian third-tier side FC Como a fortnight ago.
The British born of Ghanaian descent bought the Lega Pro side for a reported €237,000 during an auction held in the city of Como.
"We just got here, so over the next two to three months we'll try to figure out the situation and identify the suitable strategies," Puni-Essien said.
"I want to thank the team, the coach and the management for the work done so far. Considering the situation, it's incredible they are still in the promotion play-off zone," she added.
 She revealed having the support of her husband.
"I am my husband's biggest fan and he is my greatest support in everything I do. And I am not alone in this adventure. We already run a football club in Ghana in the third-tier and it's a good opportunity to give work to young people in the area."
Puni-Essien also pleaded with the people of Como to throw their support behind the club, whom she intends to qualify to the Serie B in the coming seasons.
"This is a project close to my heart and I ask the people of Como to help us out, as growing this club will be beneficial to the city. The first step will be building on the current squad and developing the youth academy, because they represent our future.
"The next objective is to get into Serie B. It's a new challenge, but I am not afraid. It's an adventure. I am motivated and excited rather than scared by it."
Como currently sit seventh on the table with 45 points.