Newcastle Jets
Ernie Merrick: Newcastle Jets making the grand final is a surprise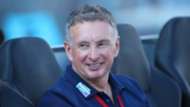 Newcastle Jets coach Ernie Merrick says he is surprised his team has made Saturday's A-League grand final against Melbourne Victory.
The Hunter Valley club finished second in the regular season, 14 points behind Sydney FC, before defeating Melbourne City in the semi-final to qualifier for the competition decider at McDonald Jones Stadium. 
Newcastle won the wooden spoon in 2016-17, and although expecting significant improve from his team, Merrick said their performance this season has exceeded expectations thought at the start of the campaign.
"To be honest I didn't [think we would make the grand final]," Merrick said.
"I thought we would make major inroads, moving upward on the ladder, but to be at a grand final is a bit of a surprise.
"The boys have just been so impressive. Now that we're here we have got to make the most of it, not only this week, but we need to play our best football this weekend."
Merrick revealed injured goalkeeper Jack Duncan (quad) and utility Ben Kantarovski (hamstring) were unlikely to be fit for the match, but said both were keen to make themselves available for selection.
Former Melbourne Victory goalkeeper Glen Moss is likely to stand in for Duncan, while Riley McGree will continue in midfield instead of Kantarovski.
"All the players are putting their hands up to play – whether they're injured or not," Merrick said.
"Jack Duncan says, 'give me a couple of days, you never know',  Ben Kantarovski is going to do some sprinting around today and he keeps doing exercises in front of me.
"Glen Moss will definitely be starting [instead of Duncan]. He is just a terrific goalkeeper. He is so experienced and he is an international with New Zealand."
There has been plenty of talk about the stunning scorpion kick goal scored by McGree against City, with vision of the strike being viewed more than 10 million times worldwide.
However, Merrick jokingly put a dampener on discussion about the goal, saying he hopes his players don't attempt an imitation in the grand final.
"I don't want any more scorpion kicks. If it happens, it happens," he said.
"Don't try and do it in a game. It's just a natural thing,"
Saturday night's match is a sellout and is expected to attract a crowd of 30,000-plus.