Africa Women Cup of Nations
Equatorial Guinea end Africa Women's Cup of Nations preparation in defeat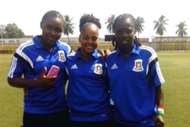 Equatorial Guinea women team bowed 4-3 to Malabo Academy Boys to wrap up their preparations on Tuesday for this week's Africa Women's Cup of Nations in Ghana.
Genoveva Anonman and Luz Milagros were on target plus an own goal but their efforts were not enough to save the Nzalang Nacional from defeat at the hands of the local side in a friendly.
Anonman scored from the spot after Chinasa Okoro was brought down inside the area to see the Equatorial Guineans recorded a narrow defeat at the Estadio la Pas de Malabo.
Having concluded camping in Malabo, the two-time African champions will depart for Ghana on Thursday, November 15 ahead of Zambia clash in Group B opener in Cape Coast on Sunday.
FULL SQUAD
Goalkeepers: 1. Lucrecia Bobuiche Bobaila - (FC Estrella de Rebola), 2. Dolores Hernandez Mansogo - (FC Super Leonas), 3. Emilianna Nchama Ndong - (DVO EvinaYong FC)
Defenders: 4. Mari Cruz Mangue Oburu - (FC C), 8. Immaculada Avelina Abang Ndong - (FC Leones Vegetarianos Femenino ), 9.Dorine Nina Chuigoue - (EDF Logrono- Spain), 10.Leatitia Chapeh Yimga - (LOSC Lille Metropole, France)
Midfielders: 11. Jacky Mossomo Annette - (Dallas Spurs, USA),12. Diana Mireva Bile - (Atletico Malabo Femenino, Spain), 13. Celestina Manga Besecu - (Super Leonas), 14. Diala Blessing - (Super Leonas). 15. Elena Obono Nkuandum - (Estrella de Bumudi), 16. Catalina Andeme Engoga Mangue - (DVO EvinaYong FC), 17. Ramona Mibuy Ndong - (FC Leones Vegetarianos Feminino, 18. Milagrosa Mecheba Ebako - (Fuensalida FC -Spain), 19. Crystel Nyepel - (Ewaiso Ipola)
Forwards: 20. Genoveva Anonman Nze - (FC LLeones Vegetarianos Feminino),5.Noah Ghyslaine Salome Nke - (Ewaiso Ipola), 6. Esperanza Mbang Mba - (FC Leones Vegetarianos Femenino)
7.Cecilia Akeng Nengono - (DVO EvinaYong Feones Vegetarianos Femenino),21. Luz Milagros Obono Obiang - (FC Leones Vegetarianos Femenino).22. Jade Boho Sayo - (E.D.F. Logrono, Spain), 23. Gloria Okoro Chinasa - (Ewaiso Ipola), 24. Berta Melania Okomo Ochaga - (Atletico Malabo Femenin, 25. Eugenia Bokoka Mosua - (Real Dona)