NPFL
El Kanemi didn't convert their chances against Wikki Tourist, says Promise James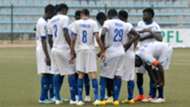 El Kanemi Warriors defender, Promise James has insisted that the Borno Army didn't play badly to deserve a 3-0 mauling in the hands of Wikki Touristin the league tie played at the Zaria Road Stadium, Jos last weekend.
James noted that the outcome of the match might have given the Giant Elephant the edge, but that their hosts were only fortunate to convert most of the chances they had while their own strikers were unable to take theirs.
He said they have noted many points to improve on when they return back to Maiduguri and that he found it very hard to explain what led to their humiliating loss to Wikki Tourists.
"Football is at times cruel because it doesn't really give room for a second chance during an actual game," James told Goal.
"We have lost the game 3-0 and it is that way it will reflect in the record books, but I make bold to state that we played very well and didn't deserve to lose by these outrageous scores.
"I must give credit to Wikki for converting most of the chances they created while our strikers and the entire team must work harder on what we must do to take our chances better.
"If you were at the stadium, you would definitely be in a better position to tell what went wrong in the game.
"It has been a tough season for us but something is sure, and it is that El Kanemi Warriors will do their utmost best to remain in the premier league at the end of the season because we know that we belong to the topflight.
"We shall soon overcome our challenges and start picking points that we have lost both home and away."