Liverpool
'It was my dream' - Malaysia Airlines contest winner after completing Anfield trip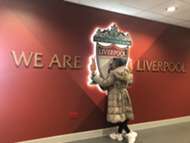 For football fans over the world who've never watched their favourite clubs live in action, doing so is a dream come true. It's a feeling that cannot be merely expressed by syllables of language, it's an experience to fulfill. 
Malaysia Airlines teamed up with Liverpool to send six lucky winners and their companions/partners of their contest, Rise with Passion, on a ''dream come true trip for any Liverpool fan – a trip to experience Jurgen Klopp's Juggernaut at Anfield on the last matchday of the 2018/2019 Premier League season. 
What capped a truly mesmerizing season for the Reds has been their dominance in the English top flight, coming second to Manchester City only by a point while going on to win the Champions League for a sixth time in their history. For Nur Azrin Asri however, the chance to witness a Liverpool team in full flow, that too at Anfield, was mesmerizing. 
 "As a Liverpool fan, it was my dream to watch my fav team play in our HOME(Anfield)," revealed the Malaysia contest winner.  
Elaborating on her visit to the North-west of England, she continued ;- "On matchday, once we arrived at the stadium I can see (and sense) the 'Kop' spirit is extraordinary. I never feel that in any of stadium. Once we entered the stadium, all the way to our seats, people kept singing the anthem and it was wonderful. It made me more excited to watch the match. 
"When the game started, I asking myself 'Is it a dream or am I really watching the match in Anfield? I felt really emotional because it wasn't a dream! I'm here at Anfield watching my favourite team in their last game of the season! 
"I don't know how to express the feeling but god knows how i feel."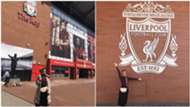 On exploring the club's immense trophy collection housed in the famous Anfield museum, Nur revealed - "Having a stadium tour was great. We met Liverpool Legends and that was a greater moment . I've usually seen John Barnes on the TV. Even then, having a face to face conversation and meeting him was unbelievable. We talked about football and his experience as a Liverpool player.  
"Nigel Spackman was also present and he was a nice person. They were great personalities and they shared lots of wisdom about football and Liverpool."
Nur expressed her happiness while sharing the same roller-coaster of emotions with over 55000 fans at Anfield on the last game of the season. 
Even though we won the game, we lost the Premier League. I still remembered when Manè score the first goal. We were so excited and what made us more excited was Brighton scoring against Manchester City. We really hoped that Man City would lose the game, but sadly it wasn't to be. But it wasn't much of a disappointment as we still had the UEFA Champions League to fight for! I wish I'd been in Madrid too. Unfortunately I couldn't but I was touched when we won our sixth Champions League. This means more for us Liverpool fans."
When asked how she came to follow football, she said, "I love to watch domestic football in Malaysia. My brother is a Liverpool fan too and that helped me to watch football and fall in love with the team. We know that we haven't won any trophy for so many years, but we do still support the team. And we know one day will win the Premier League. I'll definitely will come back to Anfield next season."
Finally, the Malaysian left us with her winning entry she shared as a message for all Liverpool fans world over, as well as the team. 
"Talent wins games, but teamwork wins championships".